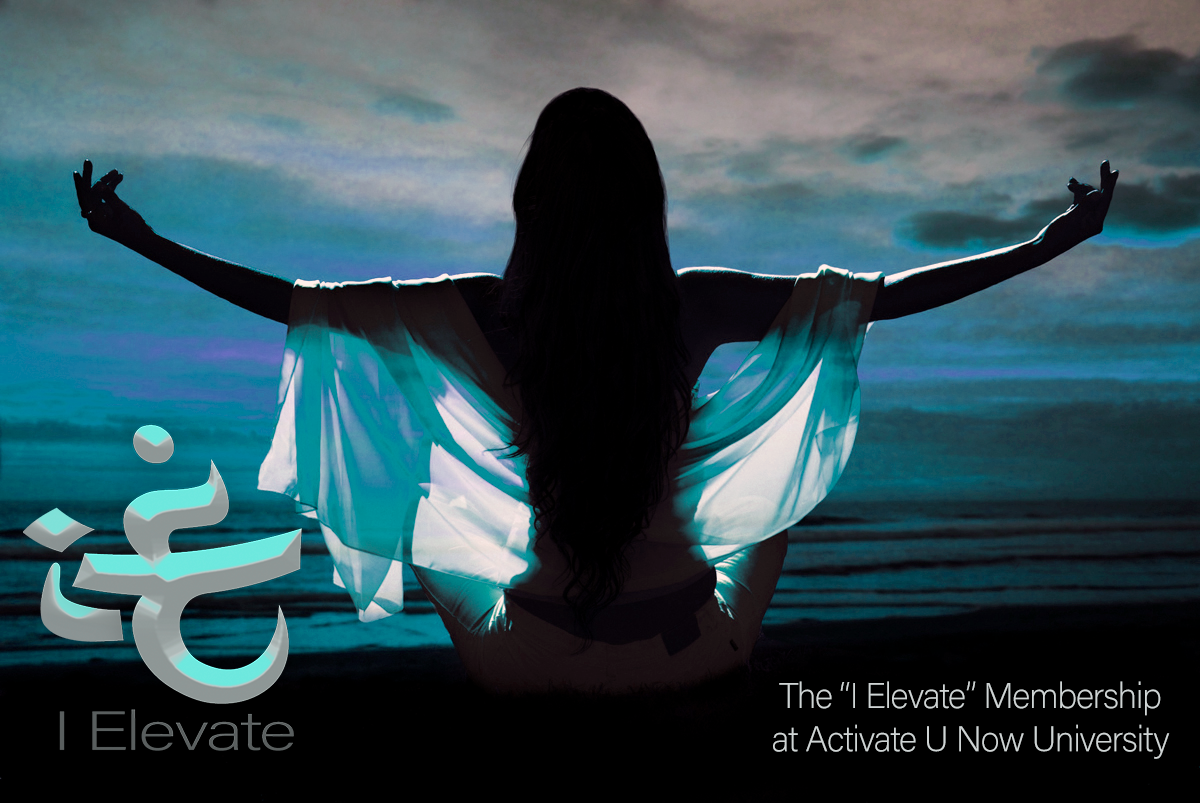 Momentum Master's "I Elevate" Membership
Are you doing your personal work and masterful at what you do, but
wanting to transition into something new
--whether a business, relationship, or your quality of life? You may not be able to control the transitions happening in your life, however, you can control how you move through them. The "I Elevate" membership is for individuals who have been powerful and impactful in their own lives and the lives of others, but are beginning a new journey into the unknown. We will support you in
elevating beyond all fears, unhealthy patterns and blockages
in order to
transform and transition into your authentic vision. If you find yourself in the midst of transition and change,
something inside of you wants to be born--will you allow it
?
As you begin to elevate, you will:

◆ Elevate to a new level of mastery in your life
◆ Experience massive expansion in all areas, including your relationships, business, finances and spiritual life
◆ Grow and change at an exponential rate
◆ Release patterns and false beliefs that are preventing your movement forward
◆ Elevate your self-trust and trust in others

◆ Elevate your opportunities for a new job/career, new relationship, or new stream of income
◆ Achieve emotional and spiritual maturity, speak your truth with love and manage your emotions with ease
◆ Achieve more harmony and balance in your relationships
◆ Achieve deeper self-love, self-compassion and self-empowerment
◆ Achieve spiritual and emotional awareness and activate your inner guidance system

◆ Achieve accelerated momentum in every area of your life

The intention of the "I Elevate" program is to transform your "I elevate" into "I AM." Oftentimes, when we are very accomplished and successful in what we do, we think there is no more room for elevation and evolution. However, there is always another level and more personal work to be done. What is your next level? Is it a new business that you have already been envisioning? Or do you simply feel the prompting from your Spirit that there is something else you must do, something higher? Whatever you intend to elevate to, this membership will provide an incredible amount of support in your ability to recognize your desires, release your blockages, and create your new reality. There is a higher part of you that is waiting to fly; you have to reach upward to discover this part of you!

This membership offers:
- Access to all four monthly Momentum classes beginning the first Wednesday of every month
- Access to private Facebook page with exclusive weekly videos facilitated by Malane Shani
- Two private 30 minute coaching sessions with Malane Shani via phone or Skype
- One free Human Design Report (what is Human Design?)
- Free classes on Activate U Now University (not available for all classes)
- Free product and service incentives loyalty program, providing a discount on live events (after 90 days consecutive membership)
- Free set of the Notes to Self Affirmation Cards and Scroll
This membership is packed with life-changing wisdom and exercises that will help you elevate your mind and your life. The Facebook page offers a supportive and diverse community of like-minded individuals who have agreed to embark upon this journey to self-mastery.
This membership is for you if you want to have:
Breakthroughs in your relationships with family, friends or your significant other
An ability to manifest multiple streams of income
Health and well-being
Join today and take your first step towards self-mastery!
"Release and let go of comfort and complacency and do the work in your life that is required to move you to the next level. Only you can do what it takes to turn your life around." – Malane Shani

---
Welcome to Activate U Now University!
Activate U Now University (AUNU) is a place to be inspired, activated and elevated by releasing what is no longer in alignment with you--that could be fears, beliefs, choices, relationships, patterns, etc.--and embracing your authentic self, who is worthy, deserving, and can have it all. AUNU offers powerful tools, exercises and workshops to support you in manifesting your heart's desires and living your most authentic life.

Testimonials
"With Malane's teachings, I have become more aware and clear about my own feelings. I have also experienced a lot of changes in my daily life and I am getting better results thanks to these workshops. These sessions have given me the tools and the flexibility to shift my perspective and be able to relate to my emotions from a different angle, to be fully present to all the conversations taken place in my head, and to know that thoughts only exist because I have created them, so the same way I can change them. Owning this allow us to tap in a new concept of abundance where there are no limits for us, only those that we have created for ourselves. There is no limit on the wealth we can create in our life."
Marcelo O.
Business Owner
Atlanta, GA
"Although I had all of the makings of success, I felt incomplete on the inside. I have always considered myself a life-long learner, so you can imagine, I had read countless self-help books, listened to motivational CDs and participated in several forums/conference to help identify and fill the void that was so prevalent in my daily existence. I had gotten to a point where I was willing to accept that I was just meant to live out my life in this way. AUN provided me with a lot of useful tools, on-going support and most importantly, it taught me how to live authentically. Now, instead of waking each day with a feeling of uncertainty, I feel at peace, joyous and loved. I learned how to love myself from the inside out rather than seeking it from external sources (i.e., family, relationships, material possessions, daily conditions). By coincidence, today, a gentleman wished me a Happy Valentine's Day with the hope that "I get everything that I want". Before I could think about it, I said to him, "I already have everything that I want". Wow! Even I could not believe my response but it's true. While I still have much work to do, I have a strong foundation on which to build and the tools to carry with me on my journey. There is nothing more pleasurable than the inner stillness that is brought about by a sense of knowing. I know now that I am enough – just as I am…I am loved. Thanks Malane!"
Tracey Knight
Entrepreneur, Educator
Atlanta, GA
"With the master teacher training, you are given a road map to your own personal powers certainly applicable to anything you do. You will understand how to manifest your own reality and how to guide others in doing the same. Your new experience of support is going to create the foundation in where you can respond to others with unconditional support provided to you all the resources that support you. The Master teacher training gives you the opportunity to operate from a place of full integrity creating leadership based on setting the tone of your own environment and on becoming clear about your intentions. Always allowing ourselves to become the vessel for spirit to guide us in everything we do."
Andrea Garcia
Entrepreneur, Interpreter
Atlanta, GA